A favorite blog of mine,
Your Home Based Mom
, does a word of the year. She did one last year and I thought about joining in. All I could think of was "survive", so that was my secret word for myself last year. And survive I did. But this year I felt a lot of things come together to play along with her, openly with accountability. Her word last year was Joy. Lovely word…one of my favorites, but it was not to be mine.
My word has literally been popping up everywhere I go. There have been signs, literal wooden signs, with my word on them, ad campaigns, books, store windows, t-shirts, magazine articles, blog posts, the list goes on and on; each one with words of wisdom that center around my word. Last Fall I went to a craft fair with all kinds of merchants and vendors. There was a Vinyl Wall Decals vendor there and I stopped to talk, because you KNOW how much I
love the
wall words
. After sifting through the sales items and the catalog, I knew I wouldn't be buying anything that night. She mentioned a free sample and I gladly accepted.
She handed me this small sample:

I almost laughed out loud. I knew then that Someone was trying to get my attention and get my attention He did. I mentally threw in the towel. I started this post that same night. I have worked on it on and off for months now. I knew it needed to be posted, to be shared. I think one of the very best things we can do for each other as women*, whether you are a mom or not, is to share what we have, what we know, our knowledge of how we can help each other. So with this in mind...
Simplify Your Life is born.
So here's what I am thinking. We all need a little simplicity in our lives. It looks different for everyone. To me, simplicity is a lack of chaos. One of my goals this year is to simplify things in my life and I need your help. I need ideas and I am sure I am not the only one out there. I figured Thursdays are the best day to do this since it is the least used day for a meme. It doesn't have a cute little rhyme to it, does it? But that's ok! Share away! It can be anything at all. Leave it in the comments or post it in your blog. Let's have fun with it! I even made this nifty little button for you to grab.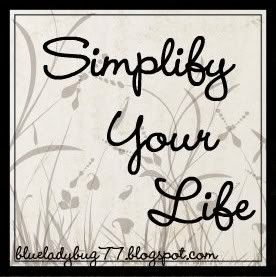 Ok, here's mine for this week. One of the ways I simplify my life is by sorting and rotating toys. We have a small toy store here in the house and for many months I picked up a ton of toys every day (or not, whatever). I knew something had to give.
We already had this storage shelf and the colored tubs.
I put anywhere from 5-6 toys in each tub. I made sure there was a stacking toy, a sorting toy, a musical toy, all different types of toys in each tub. I brought just that 1 tub down from the shelf every day. They get rotated each day so the toys are always moving. I also get one big toy down a day, like their ball popper or animal train. So, for the most part, I only have to pick up 1 tub of toys a day. Unless you count the 1000s of books they get out a day, but that is for another post. It has definitely made my life a little more simple.
Your turn! I am going to try to get a Mr Linky up with this post but if it's not there, you know I ran out of time.
*Dudes, if there are any of you reading, feel free to get in on this. It's not just for us girls.